Bringing Joy, Giving Hope
Our Aim
Starlights aim is to bring joy and hope to mental health patients. We want them to know their community cares about them.
At Christmas we deliver goody-bags filled with gifts, and soft toys for the patients and their children.
At Easter, we deliver baskets filled with Easter eggs, chocolate novelties.
Who do we help
Manawatu
Ward 21, Palmerston North Hospital
Community Mental Health Centre
Crisis Team, Palmerston North Hospital
Agape Fellowship Drop In Centre
MASH Trust (head injury rehabilitation and support)
Hawkes Bay
Mental Health Inpatient Unit, Hawkes Bay Hospital
Crisis Team, Hawkes Bay Hospital
Te Whare Aronui Respite Centre (Hastings)
Richmond Fellowship (Napier)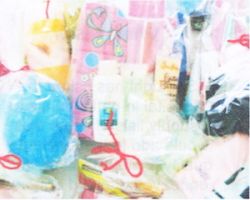 Suitable Gifts
Caps, beanies, tee-shirts
Toiletries - deodorant, toothbrushes, toothpaste, combs, face-cloths, toilet soaps, hand creme, sun block, lip balm, shampoo
Toilet bags, cosmetic bags, tote bags, gift bags
Drink bottles
Sweets, biscuits, chocolate, chippies, non-cola sof drinks (non energy drinks)
Puzzle books and pens
Books, current magazines, stationery
All items must be new. This gift may be the only one they receive at Christmas. We want them to feel cherished!
Wish Lists
Starlight has asked the hospital in-patient units to supply lists of items that would add to their patients' quality of life. Starlight then endeavours to find donors.
Quilts donated by Rose City Quilters
How can you help?
By donating gifts for the patients at Christmas and Easter
Providing us with details of companies or organisations which may be able to help us
If you are able to help Cathy and Kathy in any way, please fill in the form on our Contact page and select Starlight
For more information, please visit the New Zealand page at https://starlightjoy.org/